Fantaxies
Fantaxies is a small axolotl business located in the heart of Colorado. It stays quite cool most of the year here, and is the perfect place for breeding, raising and housing these incredible animals. Our interest in the aquarium hobby began more than 20 years ago, and since delving into the world of axolotl rearing and husbandry with our first batch of eggs, we haven't looked back. As a USA-based axolotl breeder and seller, what we do is more than just a hobby for us – it is a full-time job, and we love every minute of it.
We have high standards for the quality and treatment of the animals we are privileged to have in our care. As long as your axolotl is in our care, our goal is to be an Axolotl Paradise for them. Our axolotls are not raised in deli cups in solitary confinement with nothing but water and hardly any room to turn around. Instead, our animals are given lots of room to move and swim, as well as the opportunity to interact with an engaging environment. Our spacious setups are bare-bottom, gently filtered and equipped with plenty of hides and lots of soft silk plants to climb around and swim through. Water quality is carefully monitored and maintained. And, of course, they have as much high quality live food as they want to eat all day long. We prioritize the happiness of our animals and go above and beyond to ensure they aren't simply alive and free from stress, but totally pampered and thriving! We strive to go above and beyond in all that we do, both for our animals and our customers.
When you purchase from us, you can feel confident knowing we stand behind you with a 100% live arrival guarantee and only healthy animals. We take individual photos of many of our animals for our shop so you can have a personalized buying experience. We also love helping with any axolotl-related questions new owners often have when it comes to picking out and caring for their new pet. And we stand by our customers, both before and after their purchase.
Due to habitat destruction and the introduction of competitive species to the native environment of the axolotl, it is currently uncertain how many axolotls remain in the wild, but studies suggest that there are less than approximately one thousand. Understanding the precarious genetic situation of the axolotls we have in captivity, we take the responsibility of breeding very seriously. The animals in our breeding program have all been carefully sourced over the years from some of the most respected breeders across the country. We treat our breeding colony like family, and are very careful to follow ethical and humane breeding practices. This allows us to offer healthy, vigorous bloodlines in a variety of desirable morphs. Our tanks are tenderly nurtured on a daily basis, and the wants of each animal attended to individually. We also are pleased to partner with other breeders who are also as equally astute in maintaining high standards for their colonies, helping to keep our bloodlines fresh and maximize the genetic diversity and robustness of all the animals we make available. Supporting responsible breeders helps to keep the species in existence.
Responsible Breeding for Healthy Pets
Our goal is to offer high quality, USA-bred and lovingly raised axolotls to meet the needs of our ever-growing customer base. We are not a large operation, and we focus on offering high quality axolotls with a diverse genetic background raised – never inbred – and the genetic history of all of our breeding lotls are carefully documented and pairs planned very carefully in advance. It's important to us to protect the axolotl species in all the animals we produce through responsible breeding, understanding how compromised the axolotl is in terms of genetics due to years of captive breeding. This is why we also work with other well respected breeders in the hobby to preserve the species, through variety in both our own breeding lines and all the animals we offer for sale. Because of this, even responsibly bred animals from unrelated lines may still produce genetic oddities once in a while. Though it doesn't happen often, such animals crop up in our spawnings that were born with imperfections or may come from a genetic line we believe should be retired. When this happens these are sold as "pet only," meaning these animals should not be bred, but still can be appreciated in a loving home. Some traits we value in our breeding stock are sound long-term health, well-formed gills, good coloration and hearty appetites!
Thank you for visiting! Check back often for new stock, and feel free to reach out with any questions you may have. 🙂
Fantaxies is not open to the general public, but we do offer local pickup for nearby customers that are scheduled in advance.
Meet Our Breeding Colony
Males & Females
Zillie
Gender: Female
Morph: Axanthic
Hets: Copper, Mel, Leucistic
Zillie is a gorgeous axanthic with
super long, feathery gills. She is a big girl with a big appetite and eats almost every kind of axolotl food. Her parents were a copper and a melanoid. Her babies have included beautiful copper melanoids, axanthics, melanoids, coppers and leucistics.
Piggy
Gender: Female
Morph: Leucistic
Hets: Homozygous leucistic
Piggy is a gorgeous long-gilled leucistic female axolotl. She is sweet, playful and an absolute hog at feeding time. Every meal she viciously attacks her food and swims away to chew it some hidden spot. She eats a huge variety of foods and can't pick her favorite. Her parents were a GFP firefly leucistic axolotl and a normal lucy.
Baby
Gender: Female
Morph: Light copper
Hets: Axanthic, Mel
Baby is a beautiful light copper female axolotl. She is the daughter of copper and axanthic copper parents and carries genes for mel. She has gorgeous spots on a tan background and dark feathered gills. Her favorite food is nightcrawlers but she loves our homemade gel food too. She was hatched and raised here at Fantaxies.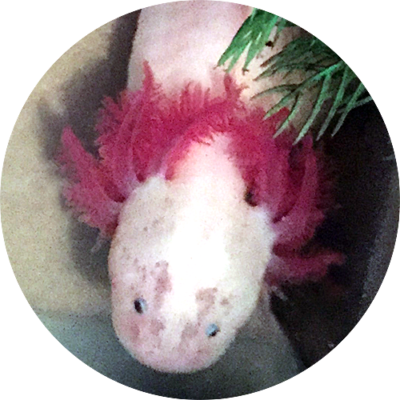 Rosie
Gender: Female
Morph: Dirty Leucistic
Hets: Albino
Rosie is a big dirty leucistic female. She is a very relaxed lotl. She was initially very shy and reserved when we acquired her from another breeder, but now loves to hang out with her lady friends, but still enjoys retreating to her coconut hut now and then. Her favorite food is our homemade gel food.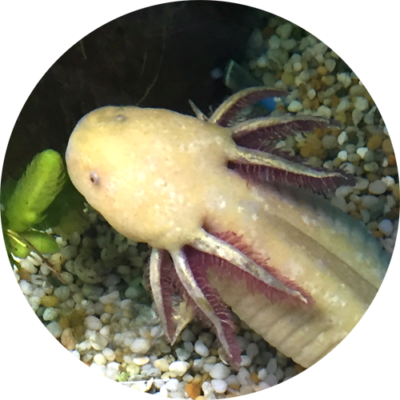 Goldie
Gender: Female
Morph: Golden copper
Hets: Copper
Goldie is a gorgeous golden copper. She is one of our prized lotls here at Fantaxies and is treated like royalty. She has a huge appetite and is massive, but doesn't like eating from tongs and prefers to have her food dropped on her head.
Millie
Gender: Female
Morph: Leucistic
Hets: Albino
Millie is a cute leucistic female with pretty pink gills and sparkly silver eyes. She loves hanging out in the plants in her tank. She's a sweet lotl who's really easygoing.
Tilly
Gender: Female
Morph: Copper Leucistic
Hets: Axanthic
Tillie is a beautiful long-gilled copper leucistic. She has gorgeous sparkles on her gills and tends to be more of an introvert with a big appetite.
Queenie
Gender: Female
Morph: Leucistic
Hets: Albino
Queenie is Millie's sister and is a dirty bluegill leucistic. She thinks she's queen of the tank. Her favorite food is pellets. She can eat pellet after pellet and still want more pellets!
Betty
Gender: Female
Morph: Leucistic
Hets: Elbino, Melanoid
Betty is a very sweet axolotl with a gentle personality. She is a big girl and is a gentle giant. Her appetite is big as well. She has the most adorable "baby face."
Blackie
Gender: Female
Morph: Melanoid
Hets: Lucy
Blackie is a gorgeous melanoid female with impressive gills and a deep black color. She loves worms and gel food equally. Her personality is mellow and friendly.
Shiny
Gender: Female
Morph: Albino
Hets: Lucy
Shiny is a beautiful albino axolotl female with pretty pink gills and a big appetite.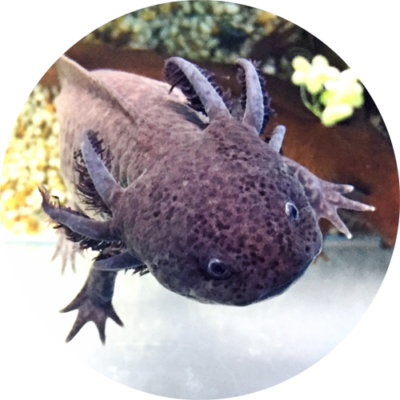 Spotty
Gender: Female
Morph: Axanthic
Hets: Copper
Spotty comes from great lines and is a fantastic breeder who lays monster clutches. She's also very alert to when it is near feeding time and always swims up to say hi.
Peeky
Gender: Male
Morph: Axanthic Copper
Hets: Melanoid
Peeky is a gorgeous axanthic copper axolotl and brother to Zillie. Incredible long gills. He produces incredible axanthic coppers, regular coppers, light coppers, copper mels and can also produce melanoids and axanthics. His name is Peeky because he loves to peek out behind things.
Pinky
Gender: Male
Morph: Darkgill Axanthic Leucistic
Hets: Copper, Melanoid
Pinky is the first axolotl we ever owned here at Fantaxies. He's a beautiful axanthic darkgill leucistic, an amazing breeder and has a sweet face and temperament. He is a second generation bluegill with hets for copper and melanoid.
Stormy
Gender: Male
Morph: Axanthic
Hets: Copper, Leucistic, Melanoid
Smokey is a darker axanthic with beautiful long gills. Comes from great lines.
Kirby
Gender: Male
Morph: Dirty Leucistic
Hets: Albino
Kirby is a fun-loving dirty leucistic axolotl. He is probably one of the more hyper axolotls we have. He loves to eat and is always on the move. His favorite thing to do is try to impress a female axolotl.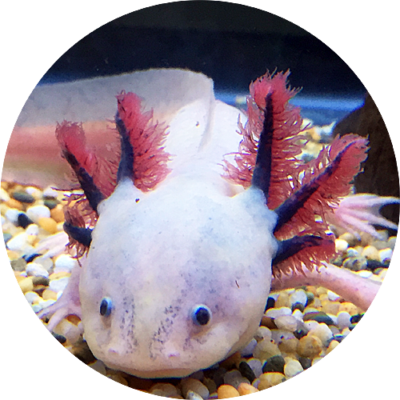 Poppy
Gender: Male
Morph: Darkgill Leucistic
Hets: Melanois
Poppy is a large darkgill male leucistic with a mellow temperament. He is a great breeder with very striking gills.
Sunny
Gender: Male
Morph: High white gold albino
Hets: Lucy, copper
Sunny has very long pink gills and a beautiful high white pattern, with a base of white with yellow spots. A beautiful guy!
Toby
Gender: Male
Morph: Melanoid
Hets: Albino
Toby is a deep inky black melanoid. He has great gills and produces lovely lavender melanoids. He is both friendly and smart.
About the Founder, Meredith Clawson
As an avid axolotl breeder and aquarist for over 10 years, Meredith discovered a special appreciation for axolotls unique to other aquatic species when she raised her first batch of eggs, and she's been hooked ever since! Experienced in caring for and shipping these amazing creatures, she is passionate about educating readers through her blog while providing beautiful, healthy pet axolotls to her customers.